Dental Implants — Phillipsburg, NJ
Experience State-of-the-Art Tooth Replacement
Missing teeth can damage a person's oral health, negatively impact their personal and professional relationships, and even make it difficult to smile in photos without embarrassment. At DeMartino Dental Group, we are thrilled to help our patients experience state-of-the-art tooth replacement with dental implants. Implants stand apart from the crowd because of their revolutionary, comprehensive structure – they replicate every part of the natural tooth, including the root that's safely hidden beneath the gum tissue. This approach supports the patient's ongoing oral health in addition to their self-confidence. To get started with an initial consultation, contact our Lehigh Valley dental office!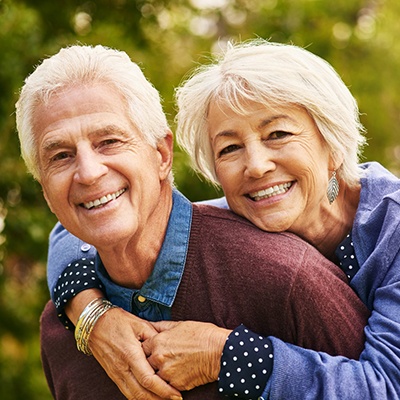 Why Choose DeMartino Dental Group For Dental Implants?
Only Dental Office in the Lehigh Valley Offering Laser-Assisted Implant Placement
Dental Implant Placement & Restoration Completed In One Convenient Location
Advanced Dental Implant Training at World-Renowned Zimmer Institute
What Are Dental Implants?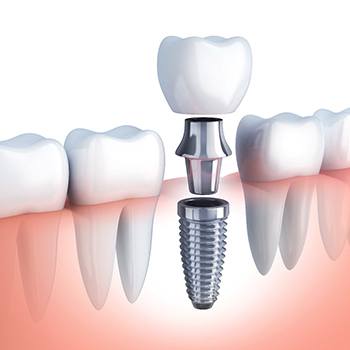 Generally speaking, there are three parts to a dental implant: the dental implant post, the abutment, and the final restoration. The dental implant post is a small titanium cylinder that we can surgically place directly into the jawbone where a missing tooth once was. This replaces the natural root structure, which not only provides a strong foundation for the replacement teeth, but also stimulates blood flow in the jawbone to prevent deterioration.
On top of the dental implant, a small connector piece called an abutment secures the final restoration in place. This custom-made crown, bridge, or denture is precisely crafted to look just like the rest of your pearly whites for seamless results. When you replace missing teeth from the roots up, you truly get a smile that looks, feels, and functions just like natural! That's why dental implants are widely considered to be the gold standard of tooth replacement by both dentists and patients alike.
The 4 Step Dental Implant Process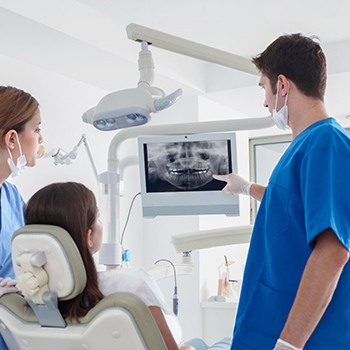 It is true that dental implants require a more thorough and multi-step process, unlike dentures and dental bridges. Although it may seem like a tedious venture, the results are well worth the wait. Many general dentistry practices must refer their dental implant patients to separate specialists for the surgical components of their care, resulting in more time-consuming travel and a higher cost. At DeMartino Dental Group, our dentists completed the comprehensive residency program at The Dental Implant Learning Center in Englewood, NJ. Their advanced training and state-of-the-art technology make it possible to smoothly carry out every stage of implant reconstruction right here in one convenient location. This means that our valued patients always feel comfortable and right at home as they work towards the confident, recompleted smile they deserve.
Although your treatment will likely look a bit different than another patient in need of tooth replacement, there are four main steps every individual can expect to go through. Let's take a look at how dental implants work in Phillipsburg.
Initial Dental Implant Consultation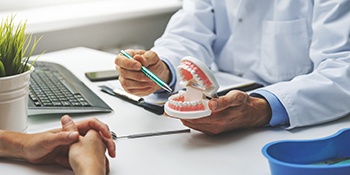 You will first need to schedule a consultation with a member of our qualified team to determine if you are a qualified candidate for dental implant placement. During this visit, we will examine your oral cavity and facial structure using advanced dental technology. Using 3D Cone Beam Imaging, we can capture a detailed, three-dimensional image of your teeth, jaw, skull, and other facial structures. This image will provide the necessary information to determine if you need preliminary treatments (i.e., bone grafting, periodontal therapy, tooth extraction) or are eligible to immediately schedule your dental implant surgery.
Dental Implant Surgery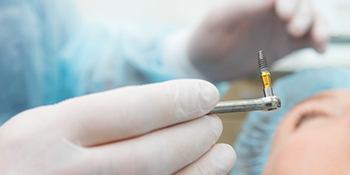 You'll be surprised to learn that the surgical component of dental implants in Phillipsburg is quite simple. Once our team administers local anesthesia to numb the appropriate areas of your mouth, we will make one or more small incisions in your gums before inserting each dental implant into the exact location. Angling it for maximum support, we will close the gum tissue and place a protective cap over the top of your implant before sending you home to recover.
Dental Implant Osseointegration/Abutment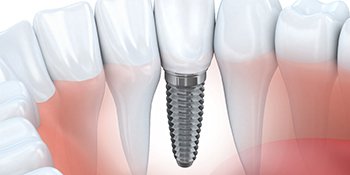 It is recommended that you spend anywhere from 3-6 months recovering at home after your dental implant surgery. It is during this time that osseointegration will occur, which is the fusing of your implants to the bone and surrounding tissues. Creating a firm and solid foundation for your customized restoration, you will return to our office to receive your metal abutments. These are small appliances that serve as connector pieces and sit on top of your implants. Once your finalized restoration is ready, it will connect to the abutment and remain firmly in place.
Delivery of Dental Implant Restorations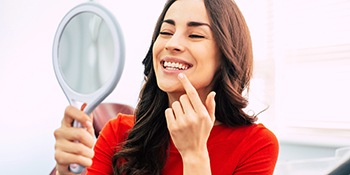 The final step of the dental implant process is receiving your customized restoration. Because these permanent prosthetics are so versatile, they can replace one, multiples, or all your teeth. As a result, you may receive a dental crown, bridge, or denture to restore your smile. Using only the best materials, your implant dentist in Phillipsburg will ensure that your customized restoration looks and feels completely natural. Not only will it be virtually impossible for anyone to tell the difference between your real and artificial teeth, but you'll enjoy a fully restored smile that functions normally and allows for a better quality of life.
Benefits of Dental Implants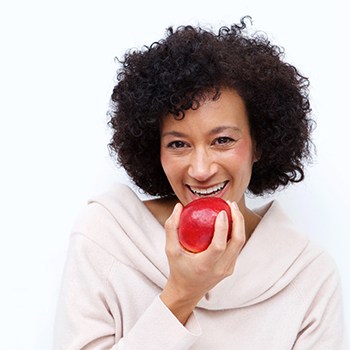 Unlike dentures and dental bridges, dental implants are viewed as the gold standard for tooth replacement. Why? Because they offer many unique advantages that cannot be attained with any other method of treatment. With more than 3 million people in the United States currently living with dental implants and more than 500,000 being placed each year, it's no wonder they are becoming the most popular option to replace missing teeth. If you want to learn more about the many benefits of dental implants in Phillipsburg, take a look at the list below. Should you have any questions, please don't hesitate to contact our office.
Day-to-Day Benefits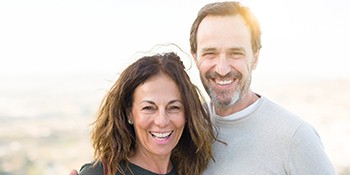 Ease of Eating – Unlike dentures that can make it hard to eat certain foods and maintain a healthy diet, dental implants in Phillipsburg allow you to enjoy all your favorite foods without worrying about your prosthetics slipping or falling out.
Improved Oral Health – Brushing, flossing, and rinsing is a breeze with dental implants simply because they look and act just like regular teeth. This will allow you to maintain better oral health and avoid any potential pitfalls (i.e., gum disease) that could lead to implant failure.
Seamless Function & Aesthetics– Once in place, implant teeth are virtually indistinguishable from the rest of your natural smile in both look and feel. In fact, it's likely no one will even be able to point out which tooth or teeth aren't "real."
Health Benefits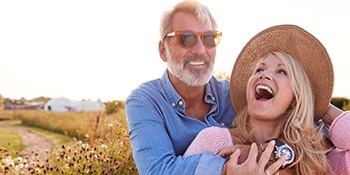 Healthy Teeth Stay in Place – When losing one or more teeth, those remaining may try to shift to close the gap. By choosing dental implants, your healthy teeth will remain firmly in place, preventing the possibility of needing orthodontic treatment later on.
Strengthens Jawbone– Since dental implants are placed directly into the jawbone, the tissue will receive the stimulation it needs to remain full and healthy, avoiding deterioration. Dental implants are the only tooth replacement option that offers this important health benefit!
No Damage to Surrounding Teeth– While more traditional reconstructive services typically require some negative alteration of healthy dental structure to accommodate their replacement, dental implants are much more conservative.
Longer Lifespan – It is believed that tooth loss and lifespan are connected. Individuals over the age of 65 with at least 5 missing teeth are more likely to develop certain systemic problems that can cost a lot of money to treat and ultimately, shorter their life. With dental implants to replace your missing teeth, you can lower your risk for these same diseases and conditions (i.e., heart disease, diabetes, osteoporosis) and enjoy a longer, happier life.
Long-Term Benefits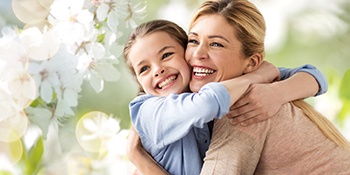 Exceptional Longevity– Dental implants have a success rate of over 95% when placed by a skilled implant dentist in Phillipsburg and should last for multiple decades. In fact, many patients are able to enjoy their new teeth for the rest of their lives.
You Will Save Money – While the investment for dental implants is initially high, you will actually save more money in the long run by choosing these permanent prosthetics. Instead of buying dental adhesives, special cleaning supplies, and paying for regular adjustments and replacements like you would with dentures or dental bridges, you can enjoy new, permanent teeth that require no additional products to remain healthy and strong for a lifetime.
Who Dental Implants Can Help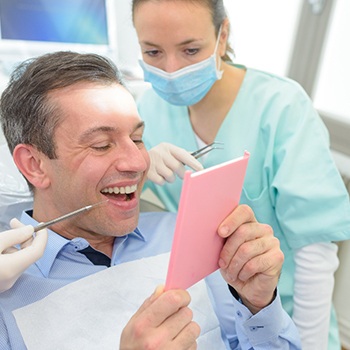 Patients with a wide spectrum of tooth loss can successfully rebuild their smiles through the transformative power of dental implants. Our dentists will custom-design the ideal restoration that looks attractive, feels functional, and is built to last for decades to come depending on how many teeth you're missing.
Missing 1 Tooth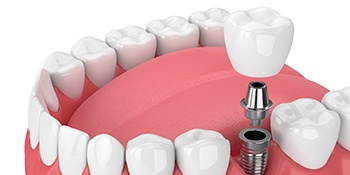 If we're replacing just one tooth with its own personal dental implant, then an all-porcelain crown will be paired with it. Unlike a traditional bridge, the crown won't require any surrounding healthy dental structure to be negatively altered. Instead, it will slip right in between the other teeth and become a virtually seamless part of your confident smile.
Missing Multiple Teeth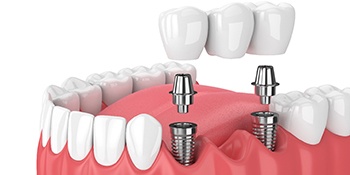 While all-porcelain crowns can also be placed throughout the mouth to replace numerous missing teeth, a more comprehensive option is an implant bridge. This modern style of prosthetic can replenish multiple teeth that once appeared consecutively; we accomplish this by placing two dental implants on either side of the gap to serve as "anchors" that hold the new smile addition safely in place.
Missing All Teeth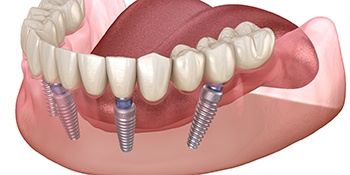 If you have lost all of the teeth along your upper or lower arch, an implant denture is an excellent choice for replacement. Instead of pairing each individual implant with a unique restoration, we can anchor this prosthetic securely with a small number of strategically located implants throughout the jaw for a final result that is both seamlessly reliable and highly cost-effective.
Understanding the Cost of Dental Implants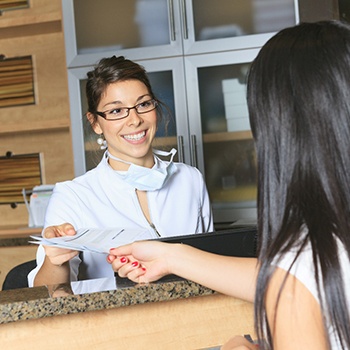 Every patient's tooth replacement needs are different, and dental implants are a multi-step service with several different components involved, including the surgical placement of the implant itself, the possible addition of an abutment, and the creation of a custom restoration. Before we can confidently determine the overall cost of your proposed procedure, Dr. DeMartino and Dr. Garcia-DeMartino will need to see you for an in-depth consultation.
We won't beat around the bush – dental implants are a significant financial investment. However, the benefits patients can expect as a result will be more than worth the initial price tag. For instance, while traditional dentures and bridges will likely need to be repaired and replaced over the years, dental implants are designed to succeed for decades or even the rest of the patient's life with only minimal maintenance.
Laser-Assisted Dental Implant Placement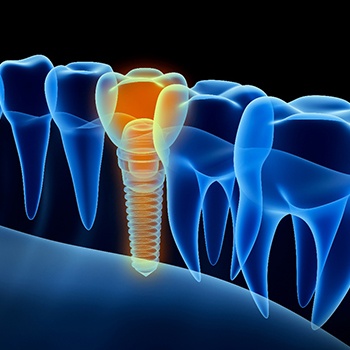 At DeMartino Dental Group, we are proud to be the only practice in the entire Lehigh Valley that provides surgical dental implant placement with state-of-the-art laser dentistry! What exactly does this mean? It's simple – patients won't have to worry about scalpels or sutures at all. Any oral bleeding is dramatically minimized, and healing occurs at a much faster, more comfortable rate. Better yet, we won't have to perform a second surgical procedure to uncover the placed implant, which means that we can place your brand-new implant crown in just three months under normal circumstances.
Learn More About Laser Dentistry
Advanced Dental Implant Procedures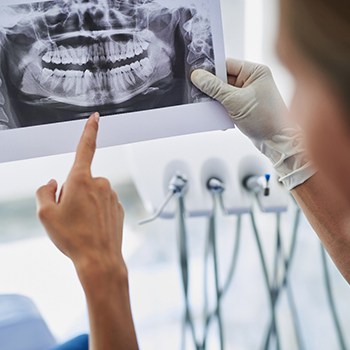 Replacing teeth with dental implants is a complex endeavor. Before embarking on it, a dentist has to determine whether a patient's bone structure will be able to support their new teeth. If the jaw is too weak or thin, that doesn't mean a patient can never receive dental implants. However, they may need to undergo one of the following advanced procedures before our team can move forward with the dental implant treatment.
Bone Grafting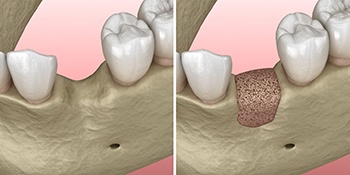 Immediately after tooth loss, the bone that once supported a tooth begins to be resorbed. That is to say, the body recycles the raw bone material for other purposes because it is no longer needed to keep a tooth in place. While this is a very efficient process, it means that eventually, the bone will become too small to support dental implants. Thus, if it has been some time since you lost your natural teeth, it is probable that you will require a bone graft.
During a bone graft surgery, your dentist in Phillipsburg will create an incision in the gums in order to access the underlying bone. Then, a grafting material will be packed around the bone. The material may be synthetic bone, bone from another part of your body, or donor bone. After the incision is closed, your body will begin the process of integrating the new material into your bone structure.
In some cases, it is possible for a dental implant to be placed at the same time as a bone graft. In most instances, however, a patient must wait for a few months after a bone graft before receiving implants.
Sinus Lifts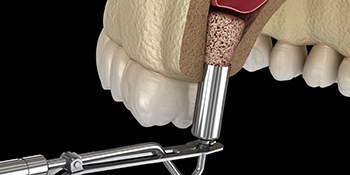 Your sinuses are located just above your molars and premolars. If there is not enough bone in your upper jaw between your mouth and your sinuses, you may need a sinus lift, which is otherwise known as sinus augmentation. Without a sinus lift, a dental implant might puncture your sinus membrane during the placement surgery. A sinus lift may be necessary due to natural resorption, a naturally thin upper jaw, past trauma to the jawbone, or other factors.
During a sinus lift, your doctor will create an opening in your jawbone, then gently push the sinus membrane upward. To keep the membrane in place, bone grafting material will be packed in beneath it. Once the opening in the bone is filled, the incision will be closed, and you can begin the healing process. The soft tissue at the surgical site will heal fairly quickly. However, the bone will take much longer to fully recover. Usually, patients are eligible to receive dental implants in Phillipsburg 4 – 9 months after undergoing a sinus lift.
Dental Implant FAQs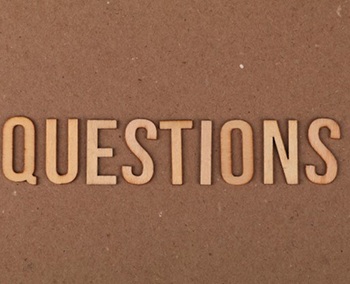 Dental implants in Phillipsburg are the next best thing to real teeth. While they can solve your tooth loss permanently, they are a big investment. Don't worry, your dentist will explain everything during your dental implant consultation. In the meantime, here are the answers to a few frequently asked questions.
Does it hurt to get dental implants?
You'll require oral surgery to place implant posts in your jawbone, but you don't have to fear a painful procedure. Your jaw doesn't have any nerve endings. Not to mention, your implant dentist in Phillipsburg will use a local numbing agent and sedation, so you won't feel anything. Although your placement surgery will be pain-free, you can expect some discomfort while you recover. You can manage it with an OTC or prescribed pain reliever. After about 3-4 days, your discomfort will improve.
Can I take dental implants out?
A dental implant is designed to replicate the entire tooth structure, including the root. Your bone will fuse to it through a process called osseointegration. Therefore, you can't remove the posts on your own, but some dentures can be taken out for easier cleaning. Only a trained dental professional can remove the implants, such as in situations of failure.
Am I too old to get dental implants?
There isn't an age limit to benefiting from dental implants. Your oral and general health will determine your candidacy for the procedure. If you have any age-related medical conditions, you can still replace your lost teeth safely. Your dentist will create a personalized plan, which may include additional procedures, like periodontal therapy or bone grafting.
How successful are dental implants?
Dental implants are the most reliable method to treat tooth loss with over a 95% success rate. They are proven to last for 30 years or longer; however, various factors affect their lifespan, like the location. Back teeth undergo more wear and tear, so they have a slightly shorter life expectancy than those in the front. You can get the most out of your investment by committing to your oral hygiene. Brushing, flossing, and using a daily mouthwash will combat harmful oral bacteria. Don't forget to visit your dentist every 6 months for a cleaning and checkup. Your dentist will also recommend breaking any bad habits that can damage your smile, like using your teeth to open packages or smoking.
What are the signs of dental implant failure?
Although dental implant failure is rare, watch for any signs of a complication, like redness, swelling, or pain near the post. Don't ignore the symptoms because it can lead to failure. The sooner you see a dentist, the more likely they can resolve the problem to save your smile.
What should I do if my dental implant feels loose?
After your bone has integrated with the post, your implant should never feel loose. If any instability occurs, contact our office immediately. We'll pinpoint the problem to create the necessary treatment plan you need to save your smile.