Dental Crowns & Bridges - Phillipsburg, NJ
Rebuild Strong, Attractive Teeth
Dental crowns and fixed bridges are two of the most commonly recommended restorations today, and dentists have been using them to replenish strong, confident teeth for decades. At DeMartino Dental Group, Dr. DeMartino and Dr. Garcia-DeMartino are happy to offer the latest restorative techniques and materials here in Phillipsburg when it comes to crowns and bridges. Your final results will be more attractive, more durable, and longer-lasting than ever before. Better yet, state-of-the-art dental implants can also be paired with both crowns and bridges for superior tooth replacement! Don't hesitate to contact us today if you have any questions, or if you'd like to schedule an initial consultation.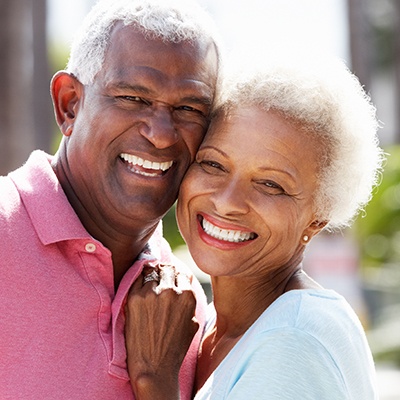 Why Choose DeMartino Dental for Dental Crowns & Bridges?
BruxZir® Esthetic Solid Zirconia and Emax Ceramics for Superior Restoration
Traditional & Implant-Retained Options Available
Decades of Reconstructive Experience
What are Dental Crowns?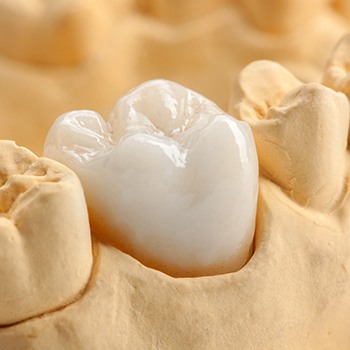 Dental crowns (which are also sometimes referred to as "caps") are a highly versatile type of restoration that can be paired with struggling or incomplete teeth. Our overall goal when recommending this type of treatment is to prevent the eventual loss of natural dental structure that has been severely impacted in a negative fashion. Some circumstances that could benefit from the placement of a new, custom-made dental crown include:
When a tooth is badly decayed and cannot be successfully treated with a tooth-colored filling
When a tooth has experienced a severe physical injury or fracture
When a tooth is weakened and is likely to break in the future without intervention
When a tooth has a significant cosmetic imperfection, such as misshapen structure
When a tooth already has a large filling in place and needs additional support
When a tooth has been treated with root canal therapy and requires restoration
When a natural tooth has been lost and replaced with a single dental implant that requires restoration
While multiple materials are available for dental crowns, our dentists highly recommend metal-free ceramics and Zirconia for a superior aesthetic result that still promises high durability and function.
In most cases, the creation and placement of a brand-new dental crown will require two appointments of the patient's time. We will use the first appointment to capture detailed digital impressions of the tooth, alter the existing structure as needed, and place a temporary restoration. Then, you'll be invited to return to the office a couple of weeks later once the finished dental crown is complete, where our dentists will make any last-minute adjustments and then securely cement the new smile addition in place.
What are Dental Bridges?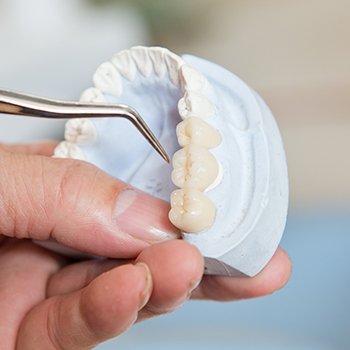 If a patient has lost multiple natural teeth that used to appear together in a row, a dental bridge is an excellent, sturdy solution for restoring what's missing. It's called as such because the prosthetic literally "bridges" the gap, bringing back much-needed biting strength and preventing surrounding natural teeth from gradually shifting out of place.
Traditionally, dental bridges have been anchored in place with the help of dental crowns, which are attached to adjacent natural teeth that must be filed down for their placement. Today, our dentists strongly recommend an alternative approach – implant-retained dental bridges. This modern upgrade relies on the placement of dental implants instead on either side of the gap, which won't threaten the health of natural dental structure while also providing vital stimulation to the jawbone.