Sports Dentistry – Phillipsburg, NJ
Bengal Bite® and Tigress®—Fiercely Protective Gear!
As a former wrestler and boxer for Notre Dame, Dr. Jeffrey DeMartino has used his experience in the ring to perfect unique mouthguards for professional and amateur athletes involved in any sport. Customized for your individual mouth, Bengal Bite® and Tigress® shield your teeth and prevent injury to your jaw.
Used by such former heavyweight champions like Lennox Lewis and Larry Holmes, Bengal Bite® mouth-wear is made from a flexible, shock-absorbing polymer. Bengal Bite® has been proven to protect athletes from concussions, facial fractures, and dental traumas.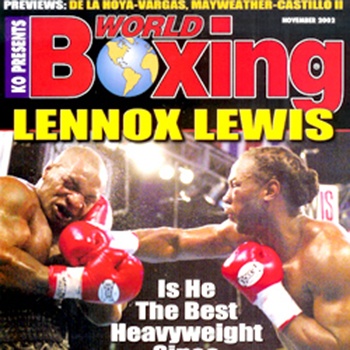 Why Choose DeMartino Dental for Athletic Mouthguards?
Proven Bengal Bite® and Tigress® Brands
100% Custom Fit
Maximum Flexibility & Breathability
Benefits of Bengal Bite® and Tigress®
As a former multi-sport athlete, Dr. Jeffrey DeMartino knows a little something about the need for mouth protection on the field, court, or mat. That is his reasoning behind his custom created mouthguards for men and women athletes of all ages and types: Bengal Bite® and Tigress®! No matter your sport or level of play, a customized mouthguard protects your teeth, prevents concussion, and enhances your play too.
The Need for Custom Mouthguards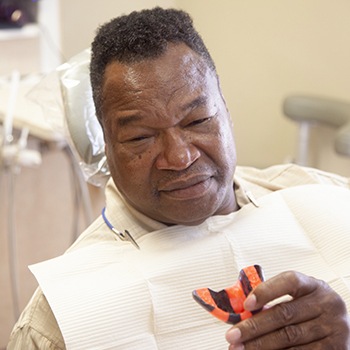 One of the most common causes for dental emergencies is playing contact sports without the proper equipment – specifically, a custom-fit mouthguard. Knocked out, chipped, and broken teeth, along with lacerations to the soft oral tissues are all too common in contact sports. Aside from protecting your smile from these and other injuries, a custom mouthguard has also been shown to reduce head injuries. Concussions are a common injury among athletes at every level of play, but a mouthguard helps to reduce impact and trauma to protect the head. That means the overall risk of chronic traumatic encephalopathy (CTE), a condition that occurs after repeated head injuries, is reduced. CTE causes memory loss, aggression, depression, confusion, and other symptoms of dementia.
About Bengal Bite® and Tigress®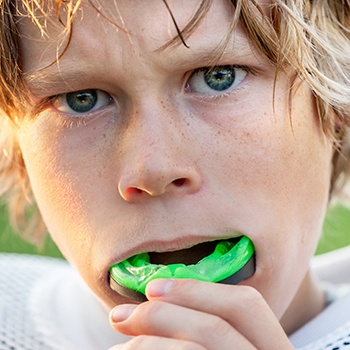 Both Bengal Bite® and the Tigress® mouthguards were designed by Dr. DeMartino and are available exclusively through DeMartino Dental Group. Athletes of all levels of play and every contact sport benefit from unparalleled protection and performance thanks to their custom-fit mouthguards. Heavyweights Lennox Lewis and Larry Holmes don't perform without their Bengal Bite®!
Both the Bengal Bite® and Tigress® are custom-fit for the athlete's unique mouth. Unlike other options in mouthguards, both allow for the free flow of air while keeping the jaw firmly closed. Athletes can breathe and speak while wearing their mouthguards. By holding the jaw in a lower position, both have been shown to increase reaction time, build stamina, and improve performance in male and female athletes!
A Special Note on the Tigress® for Female Athletes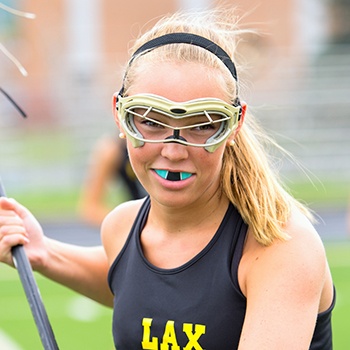 Why do female athletes benefit from The Tigress®? It's simple. The Tigress® by Bengal Bite® was designed with an extra-soft, cushioned liner specifically engineered to conform to women's rounder cusped teeth. This increases the retention of the mouthguard for better protection overall. This feature prevents minor (but unsightly) chips in the edges of the front teeth, which tend to be thinner in women. Men and women have different needs when it comes to protecting the mouth, and the Tigress® protects the female athlete better with special considerations.
Additional benefits include:
Custom-designed color combinations
Maximum breathability
Prevent oral and head injuries
Enhance performance
Get Your Custom Mouthguard Today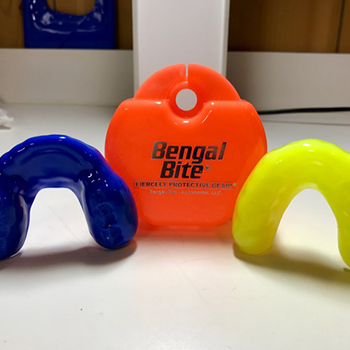 At DeMartino Dental Group, we want to protect your smile (and your head) with a custom-fit mouthguard. We can make protective gear for athletes age seven or older. Please get in touch with us to get started with your custom mouthguard today.
Dental Sports Emergencies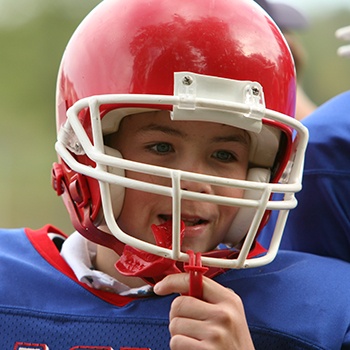 Sports injuries can unexpectedly happen, and some require urgent care. In the event of an emergency, patients should contact us immediately so we can assist them in treating their injuries. In the event that this happens after office hours, our 24-hour answering service will be able to provide you with the necessary information and instructions to properly handle your dental emergency.